About Us
Giving History
Throughout the years, the Slemp Foundation has helped generations of families to receive an education, maintain their health and improve the overall welfare of the Gap region in Virginia. During his lifetime, Bascom Slemp was a charitable person in the community and made ample provisions in his will to continue to help the people of this mountain area.
The Slemp Foundation helps….
College Students
Each year, the Foundation awards $2,500 scholarships to chosen college students who are Lee and Wise County residents or their descendants. Annually, between 100 to 150 students are funded by the Foundation. Schools also benefit from the Foundation. Mountain Empire Community College and the University of Virginia – Wise have received gifts and pledges in excess of $7.5 million combined. As well, Foundation monies helped to build the C. Bascom Slemp Library and the Lee High School auditorium.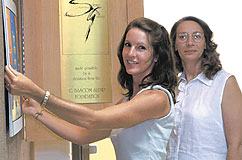 Mountain Empire Community College graphic design student Lisa Bledsoe from Stickleyville and art faculty member Alice Harrington from Pennington Gap hang artwork in the Slemp Gallery.
The Arts
With the help of generous gifts from the Slemp Foundation, residents in the area are able to enjoy cultural arts programs such as the Trail of the Lonesome Pine Outdoor Drama, ProArt Concert Series and Creative Arts Summer Camp, the Friends of the Library Author's Dinner, Resident Artist in the Schools programs, Appalachia Cultural Center, and various performing arts programs in Lee and Wise Counties.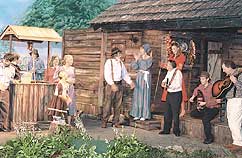 Pickin' and Singin' at June's Homecoming Party in Lonesome Cove at the Lonesome Pine Outdoor Drama.
Preserve Regional History
One of C. Bascom Slemp's dreams was to preserve the spirit of the mountain people by establishing a museum with his own collection of the area's farm, mining and early settler artifacts as the base of that museum. Provisions in his will did just that. In 1943, the Janie Slemp Newman Collection was turned over to the state of Virginia and it became the Southwest Virginia Museum. Recently, the Foundation purchased an addition for the Southwest Virginia Museum.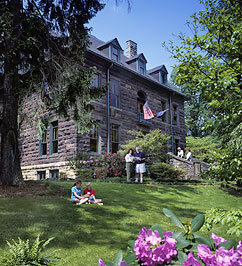 (Tim Cox photo)
"C. Bascom Slemp's legacy of historic and cultural preservation continues at the Southwest Virginia Museum Historical State Park. Present and future generations receive lasting benefits from the Slemp Foundation's support of the museum's education and conservation efforts."
-Sharon Ewing, Museum Director
Visit the museum's web site at www.swvamuseum.org.