Campbell Bascom Slemp
Born on September 4, 1870, in Turkey Cove, Lee County, Virginia, C. Bascom Slemp was the son of Congressman Colonel Campbell Slemp.
At the age of nine, young Bascom Slemp served as a page in the Virginia House of Delegates in Richmond. This experience sparked his early interest in politics.
In 1887, Slemp entered the Corp of Cadets at Virginia Military Institute.
He graduated with the highest grade point average in the school's history a record that stands today. He also received the Jackson Medal for Most Distinguished Student four years in a row.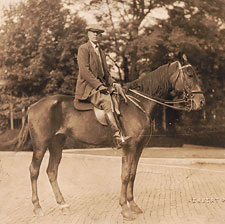 C. Bascom Slemp…a man of conviction who used the resources at his command to break the barriers of time,
reaching into the future to benefit those around him in Southwest Virginia.
Slemp began his law studies in 1891 at the University of Virginia, completing his courses in one year, and then began studying for the Bar Exam. Slemp served as Commandant of Cadets at the Marion Military Institute for one year after which he was hired as Principal of the Stonega Academy in Big Stone Gap. After teaching at VMI as Professor of Mathematics for several years, he was admitted to the Virginia Bar in 1901. At that time, he returned to Big Stone Gap to finally begin practicing law.
Bascom Slemp's father, a colonel of the 64th Army during the Civil War, passed away in 1907 while serving as Virginia's Ninth District Congressman. Slemp succeeded his father in Congress and was elected to seven additional consecutive terms.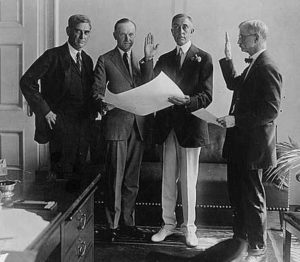 1924 — President Calvin Coolidge, second from left; C. Bascom Slemp, second from right.
Six months after Slemp completed his last term as Congressman, President Calvin Coolidge selected him to serve as Secretary to the President of the United States. After leaving the White House in 1925, he practiced law in Washington for several years. In 1931, Slemp was awarded the prestigious French Legion of Honor Medal for his work on the French Exposition — one of his last official services prior to his retirement.
Congressman Slemp retired from the practice of law and returned to his home in Virginia to look after farm, oil and coal interests. He died August 7, 1943 at the age of 73.