Board of Trustees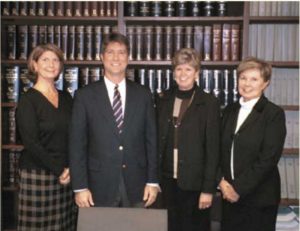 Active members right to left: Nancey Edmonds Smith, Pamela S. Edmonds,
James Campbell Smith, Melissa S. Jensen.  Mary Anna Edmonds (not pictured)
The Slemp Foundation Board of Trustees consists of five active members: Nancey Edmonds Smith, James Campbell Smith, Melissa S. Jensen and Pamela S. Edmonds.The Trustees demand the highest values and ethics of themselves and therefore expect the same from those applying for grants and those supplying information used in decision making. A fair decision is only as fair as the information supplied.
Three of the four original trustees were appointed by Bascom Slemp's will:  W. Campbell Edmonds, James Edmonds Slemp and Grace Powers Estes. John A. Reid was appointed by the First National Bank of Cincinnati. Mr. Reid, a personal friend of C. Bascom Slemp, helped to write the will that created the Slemp Foundation. He served as a faithful trustee for 55 years.
The Slemp Foundation trustees meet three times a year to consider the hundreds of requests for grants and scholarship aid. As well, the trustees visit various grant recipient organizations, schools, libraries and attend events supported by the Foundation.